I first glimpsed this climb when riding one of the Hockney-themed Big Skies Bike Rides: Sledmere County from Sledmere. At the bottom of the slope pictured below a left turn (along the actual Green Lane) takes the rider looking for a sub20-mile loop towards Havering and back to Sledmere. But there was something about the way the road disappeared in to the overhanging trees, shrouded by foliage like some lost horizon, that made me want to come back and seek out this modest, yet rewarding climb.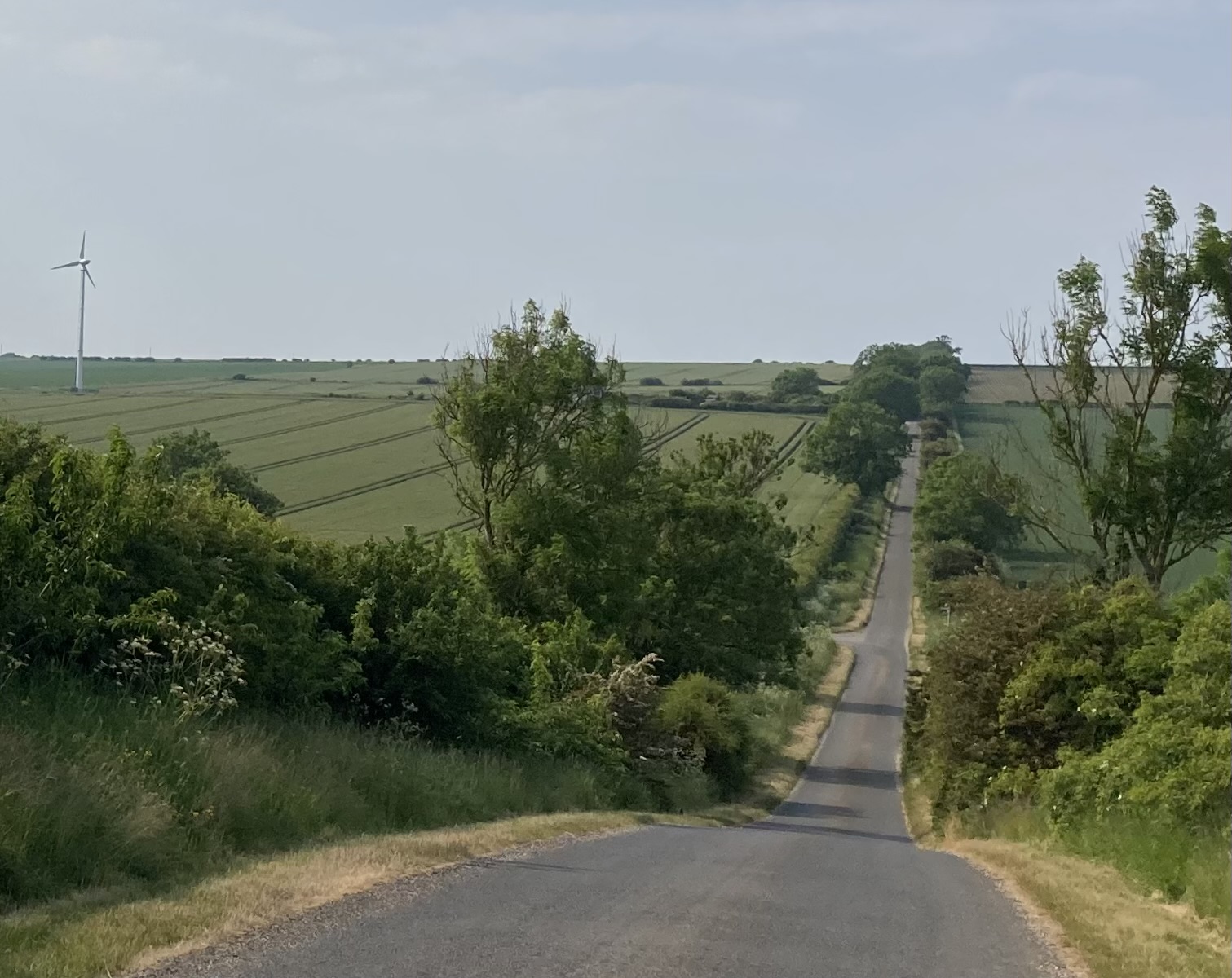 Approaching the Green Lane climb from Helperthorpe
And so I put together a few routes that first went right at the T junction that is ultimately arrived at on the way to Sherburn via the twisting descent of Sherburn Grits. From Sherburn I invariably head north to Snainton over the Vale of Pickering before returning to the Wolds via Yedingham and West Heslerton. However, I thought I'd try a left turn at that T junction and I wasn't disappointed. Though it would make the ride much shorter, the descent of Whin Moor (given the name "Watch Out For The Cars?" by some Strava wag) is an absolute joy, with beautiful pastoral scenery that flashes by on the way back to West Lutton. (To be fair, you really should watch out for the cars on this twisting freefall.)

To my surprise I find that, with just three rides in as many months, it seems that I am the (not so) 'local legend' for this Strava segment, over in a different county to my own. Where are you all?
Just like Grimston Brow (Luddith Road) this is an unthreatening climb, and perhaps overlooked, but is one that opens up yet further route options for the Yorkshire Wolds cyclist, adding to the almost limitless possibilities offered by the network of quiet lanes in this beautiful area. If you haven't already made it out that way I thoroughly recommend it.

View Green Ln Climb in Strava
---
Related routes:
Green Lane climb from Sledmere in Garmin Connect (30 miles)
Green Lane climb from Middleton-on-the-Wolds in Garmin Connect (40 miles)
Green Lane climb and on to Snainton from Hull in Garmin Connect (100 miles)
Sykes Churches Trail from Field House Farm campsite (100 miles)