Painsthorpe Lane out of Kirby Underdale doesn't have the fearsome reputation of nearby Hanging Grimston, but is well worth seeking out if you are in the area around Thixendale and looking to put together a number of superb local cycling climbs. Certainly David Hockney was impressed enough with the view to plant his easel in a bit of a layby and capture what he called 'Bugthorpe Valley', one of his many interpretations of the Yorkshire Wolds that comprised his 'A Bigger Picture' exhibition at the Royal Academy some years ago. My most recent attempt to pull together Hockney's locations in to some sort of themed ride took in this climb (Garmin link below) and marks the most westerly Wolds spot for the Hockney pilgrim.
After discussing Hanging Grimston and Uncleby Hill, Roger England, in his excellent Hill Climbs on the Yorkshire Wolds, goes on to describe Painsthorpe Lane:
The third climb is the popular Painsthorpe road which ascends from the church and quickly steepens to 17% as it passes the Hall before easing back to 10% approaching the hamlet of Painsthorpe. From here it is an easy 5% to the top of the wold. This route should be familiar to those who have completed the 70-mile version of the George Herbert Stancer standard ride.
I've ridden up Painsthorpe Lane – never down – mostly on the GHS rides on the way to a nice pot of tea at Thixendale Village Hall (only open Sundays). For the most recent ride on that memorial event I was piloting the tandem with my stoker merrily chatting away as I tried to avoid both the steep drop offs at the side of the road and excessive oxygen debt. It is well worth the effort, however, and as always the Roman Road at the top of the climb offers numerous options in either direction. This Yorkshire Wolds hill is included in Simon Warren's essential 'Cycling Climbs of Yorkshire: A Road Cyclist's Guide', albeit with a relatively tame score of 3/10.

Painsthorpe Lane as a Strava segment
---
Some route suggestions:
'Trois Monts' (Thrussendale Road (Acklam), Hanging Grimston and Painsthorpe Lane) from near Huggate
A potential Hockney-themed western Wolds route in Garmin Connect from the same start point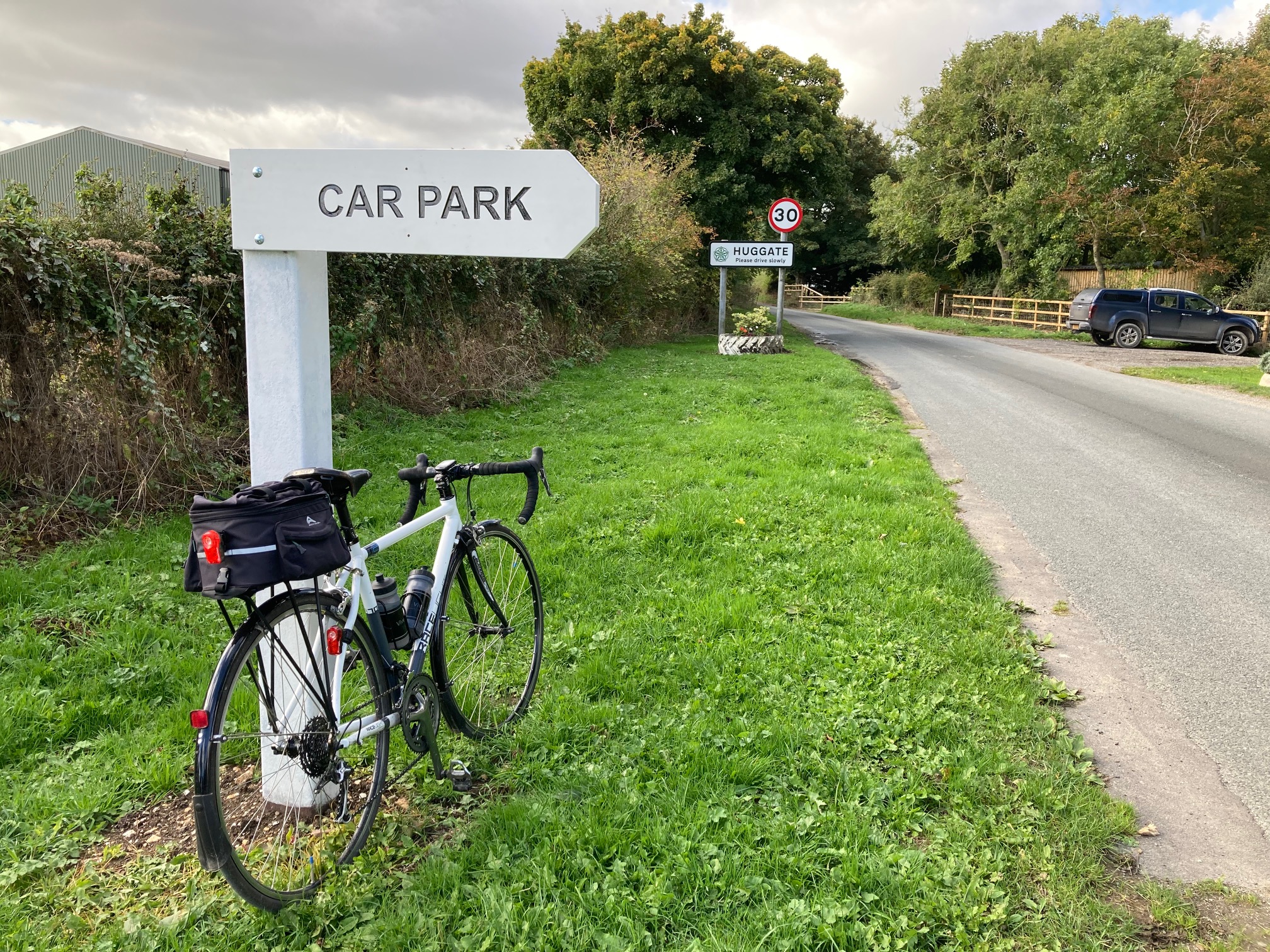 The public car park just outside the village of Huggate provides an excellent alternative to the start point of the rides listed above. Refreshments available at the highly recommended Wolds Inn