Here you will find my personal reflections on a few matters relating to the Yorkshire Wolds Cycle Route. Currently they include the Wolds Way bridleway at Stoneknowle Hill, considerations on whether to ride clockwise or anti-clockwise, what sort of bike to ride – and what to carry and thoughts on navigating the Yorkshire Wolds Cycle Route.


The Yorkshire Wolds Way bridleway at Stoneknowle Hill, North Newbald

When I completed the provisional version of the Yorkshire Wolds Cycle Route with ride buddy Steve back in 2011 there were two off-road sections. The first was a bridleway off Stoneknowle Hill north of Newbald and the second just outside Malton. We rode the second section – all big pieces of gravel tinkling off our spokes – and missed out the first, the bridleway said at the time "to be upgraded". I have ridden that bridleway on my 'Audax' bike on 25mm tyres and my carbon bike on 23mm slicks. It was perfectly passable on those particular, dry days.
However, lately the surface has in parts become churned up and on one particular occasion when I attempted to cycle the bridleway I had to walk perhaps half its length. This is what Stephen Dyster observed, writing in the Dec2010-Jan2011 edition of 'Cycling World': "The surface was firm, but one foresees issue arising where the track is already displaying signs of rut and puddle."
There is no doubt that this, official, route affords better sightlines when crossing the A1079, instead of where I have crossed when riding the full Yorkshire Wolds Cycle Route, at the staggered junction just above Gardham on the way to Etton.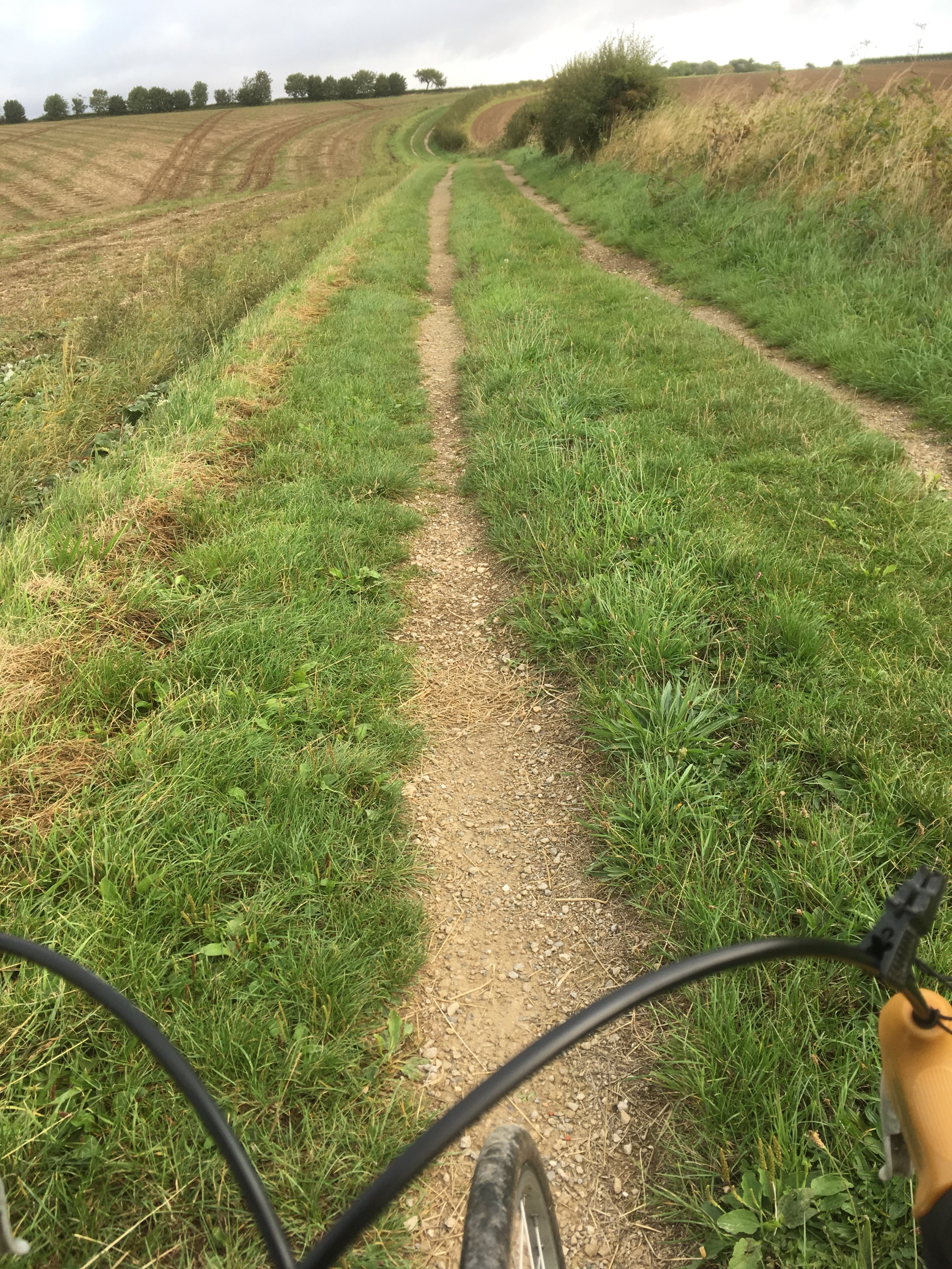 Heading north almost at the end of the Newbald Wold bridleway (August 2018)
I dare say that if you are riding this part of the route on a mountain bike or hybrid you would manage even after a period of poor weather. My only concern previously on a road bike – with limited time – was that this part of the route would slow us down; one occasion on my 25mm-tyred bike I had to remove the front wheel and scrape the gunge out of my mudguard with a pointy stick.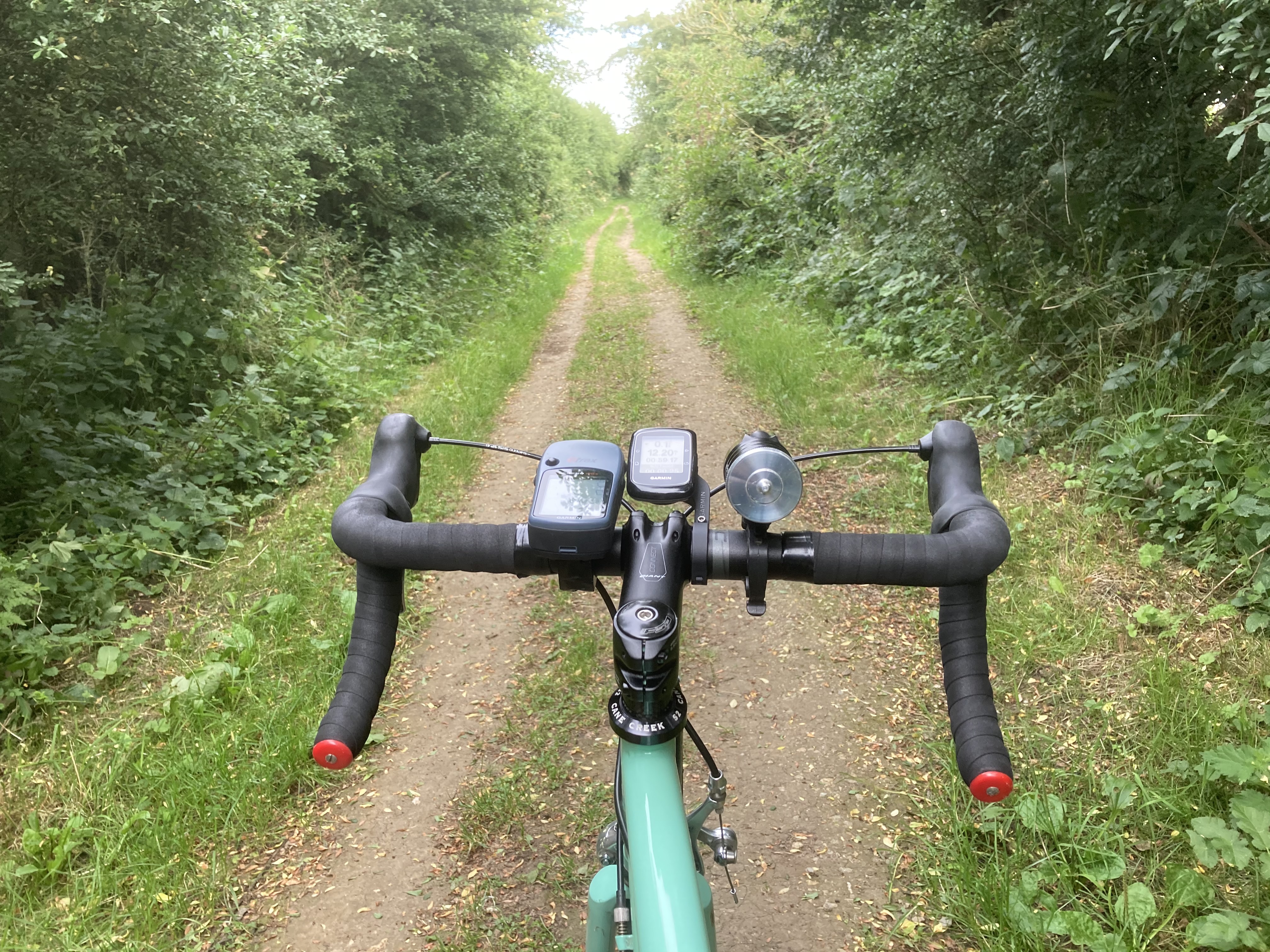 Riding along Newbald Wold during a dry spell (August 2021)
However, on my last attempt at completing the full Yorkshire Wolds Cycle Route, which I abandoned around the halfway point at Sledmere, I did take the Newbald Wold bridleway (pictured immediately above) and when I next ride the route I intend to use the bridleway again, assuming the weather has been favourable.
In the olden days I thought nothing of riding along the A1079. I once set off from Hull and rode all the way along it to York one night. But those days are long gone. At the bottom of this page there are links to three ride reports and each of them mentions cycling along the A1079 to get to the official crossing. My preference after poor weather, or when time is pressing, is to carefully cross the A1079, drop down to Gardham, on the outskirts of Etton turn left towards South Dalton and left again at the crossroads then left again at the next crossroads and that will bring you back to the route just in the considerable shadow of the disused railway bridge.
So, instead of going left on the official route along the bridleway on my road bike I continue up Stoneknowle Hill, cross the A1079 then take three more left turns to bring me back on course. Just watch out for the hidden dip towards Market Weighton, take care and you should be fine.


Clockwise or Anti-Clockwise?
Every other year the Yorkshire Wolds Cycle Challenge flips between riding the route clockwise and anti-clockwise. I can see why they would do this, and one day I'll try to ride the route anti-clockwise myself. Although the suggested direction is clockwise – and for both convenience and consistency this web site assumes the same – the official routing does consider those riding the course in the opposite direction, something I noted at Foxholes, for instance. There are advantages to this approach, but first potential the disadvantages, as I see them:
Assuming a start and finish point of Beverley I think I would want to get the toughest hills out of the way when my legs are at their freshest. But then if you do the route over a few days your legs will have time to recover.
I think I would want to make steady progress at the beginning of the ride so I'm not sure I would want to have the potential delays of making all those railway crossings before Bridlington.
There are a few short, sharp descents when riding the route clockwise, but Settrington Bank is a long, twisting descent sometimes with gravel to contend with and some cyclists may not allow for this, find that their speed has got out of control and come a cropper, especially in the rain. Don't ask me how I know. But the sensible descender need not be concerned.
If during a ride you were to take refreshments at Sledmere I think it would literally be a drag to head north west towards Kirkby Grindalythe after this logical coffee stop and climb straight away on a full stomach. In a clockwise direction this a lovely downhill stretch on the way to the Great Wolds Valley road as far as Foxholes and – prevailing winds and all that – is generally travelled at a fair pace.
In terms of the advantages of riding anti-clockwise there a number, actually, especially if stating from Bridlington. Setting off in an anti-clockwise direction from the coast does mean the later stages will be along flatter terrain, but also with an enjoyable descent of Woldgate as experienced by those completing the Way of the Roses long distance ride from west to east.
Being a circular route the overall elevation, of course, is the same in either direction, but Leavening, the "Fuller Gallery" road out of Thixendale and Trundlegate are all stiff little climbs with more relaxed descents to follow.
Actually, the more I've been thinking about this the keener I am to try the route anti-clockwise…


About the Bike – and What to Carry
To date I've ridden the full Yorkshire Wolds Cycle Route on two bikes: my Kinesis Racelight T2 "Audax" bike and my Giant road bike. Either bike is suitable, and the main reason for riding my Giant was that it is lighter than the Kinesis and I needed to keep up with my lighter, younger, fitter companions in June of 2018. And I've ridden the bridleway at Stoneknowle Hill on both these bikes, just not on the days I did the full YWCR. Although you could ride the route on virtually any bike, of course, I may make some suggestions on choice of bike at a later date. I'll not offer advice on training, nutrition and all other, personal, matters, but for now I'll just offer my thoughts on what to carry.
I carry too much weight, and not just the fat on my body that pushes my BMI closer to 'obese' than to the upper limit of what is considered 'normal'. No, I take too much stuff. I sometimes take a complete change of clothes, a day's food and I used to bring along tools including a complete 1/4″-drive socket set. I've got better but, aside from food and clothing, below is what I consider to be the minimum tools and equipment for a ride of any decent length:
So in a sort of clockwise spiral from top left my kit includes:
cable lock
rear derailleur and rear brake cable
puncture repair outfit
two inner tubes
tyre levers
multi-tool
chain splitter
1/4″ inch drive bits: slotted, crosshead and hex key
1/4″ inch drive ratchet
small camera tripod (actually, not always)
KMC quick links
that spinny thing for Shimano Hollowtech cranks
Brooks saddle cover
and last, but certainly not least, a replacement rear derailleur hanger*
The above are kept in an underseat pack to which a folding Gatorskin tyre is lashed beneath using two toe clip straps or similar.
* I have yet to need the derailleur hanger whist 'in the field' – in fact I've only ever really needed replacement inner tubes and the saddle cover – but I've heard plenty of tales from those whose ride has ended after a minor prang that bent this little piece of metal attached to the rear driveside dropout. Why take the risk?


Navigating the Yorkshire Wolds Cycle Route
[edit October 2021] There used to be downloadable .pdf of the Yorkshire Wolds Cycle Route, but this seems no longer to be available. There are, however, at least two web sites – that include .gpx files – that offer the old, provisional route. Kamoot and Cycing England have the out of date routes on their web sites, for instance, so I won't link to them. If you have a map that doesn't include Hunmanby then the map is not the correct version; the Yorkshire Wolds Cycle Route has passed through Hunmanby since its inception.
These days I like the belt and braces approach to following a prescribed route by bike: I have a Garmin GPS device – actually, two – a map – okay, I forgot to bring it last time – as well as relying on the very many signs helping cyclists go the right way. And still I got lost. Well, not lost as such. I just didn't follow the route last time as faithfully as I had hoped. At some point I will probably take my own Garmin Activity Track for the route, save it as a course and edit the thing to correct my meanderings off the official, clockwise route. Especially if you are from outside the area I would recommend a bit of research beforehand and it's probably a good idea to have a map of some description.
All three of the ride reports below include accounts of people wandering off the official route. It's not the end of the world, but it might be a minor inconvenience on your ride.
http://www.johndarm.clara.net/wolds/wolds.htm
https://ridleyriderwrites.wordpress.com/2018/06/28/yorkshire-wolds-cycle-route-a-two-day-tour/
http://www.yorkshirewoldscycleroute.co.uk/a-ride-for-hull-ionians
---
In the summer of 2020 Sustrans announced that it could no longer recommend a number of stretches of its network. Such stretches were reclassified as an "On-road route not on the National Cycle Network". Near Malton the original, proposed section of track can – as far as I am aware – still be used and this avoids much of the main road that leads from Norton to the Settrington turn off. But, in so far as it affects the experienced cyclist at all, the most significant declassified section is between Market Weighton and the turn off to Londesborough. There isn't really an obvious alternative that doesn't involve a major detour, and I haven't found the crossing at the A614 to be particularly troublesome. The usual disclaimers apply.
Not sure what to make of this. Other than a few miles near Malton the only vital #YorkshireWoldsCycleRoute stretch that @sustrans re-classifies as a dashed blue line is Mkt Weighton to Londesborough. An 'A' road r/about with good sightlines? Meanwhile Sober Hill is good to go… https://t.co/2JYF5uBmkC pic.twitter.com/tWIkbSqxIT

— Cycling the Yorkshire Wolds (@CycleTheWolds) July 20, 2020
Go the the Sustrans page for the Yorkshire Wolds Cycle Route where you can click on 'View the Network layer on OS maps' and zoom in to see the route and how different part of it are now classified by the custodians of the National Cycle Network.