The medical profession has Harley Street; London fashionistas have Carnaby Street; Manchester its Curry Mile. So what name should there be for the stretch of the Yorkshire Wolds that links Goodmanham, Londesborough, Kilnwick Percy, Millington and Hutton Cranswick making it synonymous with excellence in its chosen area of expertise? I don't know either. But this oblique reference to places in and around the Yorkshire Wolds serves as a reminder that even within this particular space of just a few miles there is no shortage of tempting cafés along the 146 miles of the Yorkshire Wolds Cycle Route.
As with the Accommodation page, rather than list them alphabetically I've put places to eat in the order they would be reached if setting off on the Yorkshire Wolds Cycle Route in a clockwise direction with Beverley Minster being mile zero. Distances are approximate. If the café is away from the official Yorkshire Wolds Cycle Route then a figure is placed in brackets after the point on the YWCR where the cyclist would divert in order to visit the place to eat and drink. Also, as with the Accommodation page, I have listed places to eat along the route that come with a recommendation. Unlike the recommendations for accommodation the reviews come directly from me. We start, though, at Beverley…

Café Velo, Beverley
(Zero miles from start)
There is a view amongst some residents of Beverley that there are too many cafés in their town. I think they are probably right about that. Small independents as well as the national chains vie for our custom – and every month or so another one seems to open – and another closes. However, the best place for coffee in Beverley is Café Velo. Not just because it's a cycling themed café and the co-owner used to work in Ken Ellerker Cycles, three decades ago, but for the simple reason it serves the best coffee.
Despite all the cycling gear adorning the place – and being able to hang up your bike within stroking distance – I wouldn't make a point of going there if the coffee were merely average. The excellent coffee is provided by the Blending Room, Hull (which also supplies Caffeinated in Hull's Trinity Market and Thieving Harry's near Hull's marina) and their beans are the only ones that make it in to my grinder at home. Café Velo is a must visit for cyclists – and those who appreciate good coffee. Closed Mondays.
Fiddle Drill, Goodmanham
15(+2) or 19(+2) miles
This barn conversion just outside Market Weighton has quickly become a favourite for cyclists in the area. The owners are rather savvy and as well as targeting walkers, including those with dogs, there are racks and even a track pump for their cycling customers. Manor Farm Cottage is within the same grounds, so a stay there opens up the possibility of a range of day rides.
This isn't fast food, but if you are not in a hurry to dash off somewhere the menu is very tempting indeed. A quick word of warning: the Fiddle Drill is popular for private functions, so check ahead to make sure they are open when you hope to visit. Otherwise open Wednesday to Sunday.
The Reading Room, Londesborough
21.5(+0.5) miles
I have to be honest, I don't know when this place is open. It has been every time I've visited including when the annual Londesborough Snow Drop event takes place, seemingly over the middle two Sundays in February. During the Snow Drop event trade is brisk, and the staff (volunteers?) working there are ruthlessly efficient with an inspired pricing system that gets you a hot or cold drink, sandwich and tray bake for a set price (at least that's how I remember it) so that they can quickly get through the queue of punters.
Recommended, but maybe don't rely on this one unless you check on Facebook first.
World Peace Café, Kilnwick Percy
27.5(+.5) miles
Until a couple of years ago I would have said the best coffee in East Yorkshire could be found at the World Peace Café near Pocklington. However, since the extension to the World Peace Café in 2016 the only coffee now served is filter coffee. (I will be happy to update this page if I am informed of a change to this situation.) Nevertheless, there can be no more, well, peaceful café in the whole of the Yorkshire Wolds. Beautiful surroundings as well as indoor and outdoor seating are among the reasons why this place is so popular.
Despite the filter coffee it is still very much worth a visit – there is accommodation available also – but do beware that the entire grounds are sometimes closed to the public out of term time and when events are held in the former stately home at Kilnwick Percy. Oh, and don't rock up hoping for a bacon banjo as the entire place is a Buddhist retreat.

Ramblers' Rest, Millington
29.5 miles
Like all of the listings on this page the Ramblers' Rest is worthy of a visit even when you're not cycling to get there. There is limited accommodation attached to the building and framed photographs of cyclists within the place offer reassurance that it's not only walkers who should feel welcome. Watch out for the sign telling cyclists not to lean their bikes against a neighbour's wall, though.
I've been past when the Ramblers' Rest has been closed – perhaps for functions or group bookings – so do check before
visiting.
Bishop Wilton Community Shop
29.5(+3) miles
I've added this community shop and cafe (in 2022) because I've used it a few times when checking out the Sykes Churches Trail and found it a welcome delight. Limited space inside and out, but well worth a diversion if short on supplies and you don't fancy leaving your bike outside a shop in Pocklington, say. Homemade and prepacked food – it's like a mini farm shop and a six-mile diversion from the Yorkshire Wolds Cycle Route if you're not in a rush. Check out the opening times.
Rachel's Walnut Cottage Tea Room, Huggate
33(+0.25) miles
Cycle racks and outdoor seating, with excellent service. It's easy to miss – on your right just after the first bend when you enter Huggate from the Millington end – so keep a lookout. Closed Wednesdays, apparently, and opens at 11.00 o'clock.
Wolds Inn, Huggate
33(+.5) miles
I think I've done rather well getting to this point before mentioning a pub, but here I finally succumb. It's not the beer, you understand, but the likes of the hot roast beef sandwich – with a side portion of chips – that would draw me in.
Perhaps take your refreshments in the perfectly pleasant bar, so as not to alarm those eating their meals in the dining room, and the only slightly negative thing I could say is that this highest pub in the Wolds has sometimes left me without a mobile phone signal and even cut my Garmin track in two. Accommodation available.

Thixendale Village Hall (Sundays only)
42.5 miles
The delightful café within Thixendale Village Hall is only open on Sundays and is run by volunteers. Don't overindulge with the lemon drizzle cake, though, as most roads out of Thixendale involve a climb of some sort. If you're not peckish and you're in a rush you are invited to use the loos for a small contribution to the upkeep of this former Youth Hostel. How civilised.
Opposite is the former Post Office which you should make use of if low on provisions as there aren't many shops in the area. The Cross Keys in Thixendale offers limited accommodation.
Yorkshire Tea Rooms, Malton
56.5(+2) miles
Technically, the Yorkshire Tea Rooms in Malton is slightly off the Yorkshire Wolds Cycle Route, but if in need of sustenance before going up Settrington Bank – or a strong cup of tea after coming down it – then this is where I would go. The only downside is that there's no obvious immovable object to lock your bike against – and 'parking' is on the pavement – but I rather like it and I've just had flashbacks to a serving of welcome and very filling beans on toast when I was cycling up to Whitby via Pickering a few years ago. So I've not been for a while (hence no photograph), but worth a punt if you need a stop.
Coach House Café (formerly the Terrace Café), Sledmere
70 miles
The café used to close out of season, but now according to its opening times is for the most part just closed on Mondays.
A well-positioned café between Huggate and Bridlington. Recommended.
NB: the Coach House Cafe reopened in 2022 after refurbishment, but don't discount the Tin Roof Takeaway across the road. Substantial sausage sandwich and drinks to go make it an ideal alternative for cyclists wishing to press on. Use it or lose it.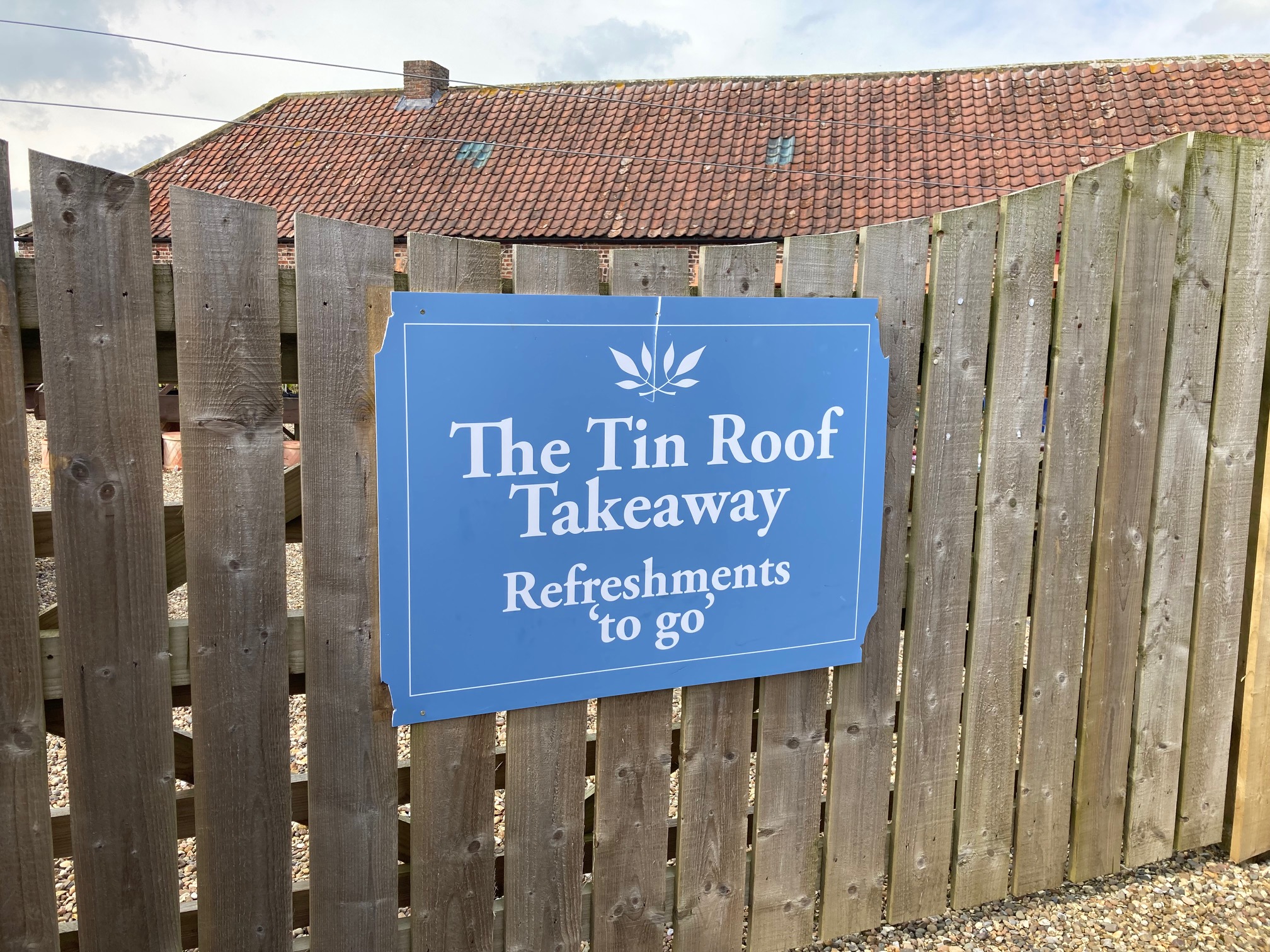 The Gallery Tea Rooms, Buckton
101 miles
Great poached eggs on toast on my first visit and so far only visit and the best pot of tea I've had in ages. As you turn on to the main road through Buckton from the side street the cafe and Richard Burton gallery is on your right. Car park area set back to keep your bikes away from the road.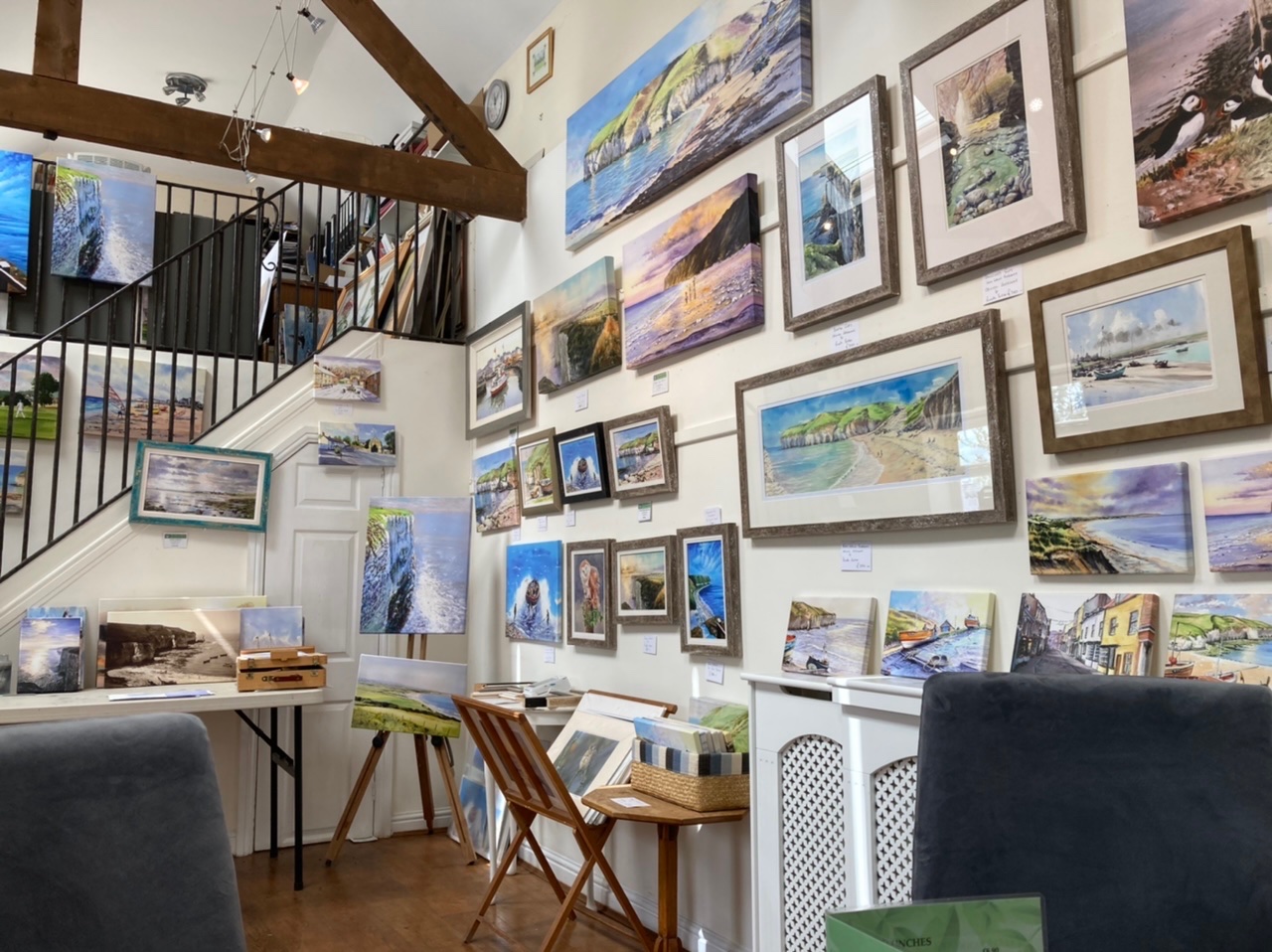 The Ship Inn, Sewerby (near Bridlington)
106 miles
It's a while since I've eaten here, but we were made to feel welcome when we popped in last for a quick drink and it's a good place to stop slightly away from the more obvious touristy places at this seaside town.
From memory you can keep an eye on your bikes, too, which is always a good thing this close to busier areas.
Stove Cafe Bistro, Hutton Cranswick Garden Centre
131.5 miles
With its enormous mural outlining the Way of the Roses and parking for bikes #Stove Cafe Bistro gives Café Velo a run for its money in terms of its cyclist-friendly credentials. Really, I should go in less frequently as I tend to go past on shorter rides that don't particularly justify a café stop.
But the service is quick and not many places offer poached eggs on toast, so I am all too often tempted. Now, where did I put that loyalty card…?
Pipe and Glass, South Dalton
139.5 miles
If you're not in a rush to get back to Beverley then East Yorkshire's premier gastro pub is a cyclist-friendly Michelin-starred restaurant in South Dalton. If pushed for time you can still enjoy a drink at the tables outside with, say, the excellent twice-cooked chips. Despite its Michelin star they're not too sniffy about serving brown sauce with their chips, but expect it to arrive in a miniature copper-bottomed saucepan. Very nice, too.
---
If you would like to get in touch about an entry on this page you can email me:
Chris@YorkshireWoldsCycleRoute.co.uk