Thixendale is a picturesque, remote North Yorkshire village just over the border with the East Riding of Yorkshire. Almost all sportives I've ridden (and all challenge rides I've organised) pass through the village, many along Warter Dale which ramps up out of Thixendale heading north west. However, all six of its notable hills are well worth taking. Some, such as the road to Fridaythorpe, are arguably more suited to descending, albeit with particular caution. That climb is rather narrow and goes upwards for what feels like several hundred metres; I don't like going slowly up busy or narrow roads. All ways in and out of the village offer wonderful views and recently I thought I'd put together a short route taking in each of them. Unsurprisingly, others have come up with their own take on the same theme (more on that later), but on the day I did this ride I had a specific need make the route less than fifty miles.
In 2022 a free car park opened just outside the eastern edge of nearby Huggate, that would make an ideal start point. This isn't a long ride, but you would be forgiven for taking refreshments in the newly refurbished Wolds Inn afterwards. So here is a suggested route. What's yours…?

If arriving by car I avoid parking in Thixendale itself – there's not a lot of free space – instead using the public parking available in places such as Goodmanham and Warter, or here on the eastern edge of Huggate, although on this ride I started from slightly further afield
The photograph at the top of this post was taken on the descent of Huggate Road, a hill I would ordinarily prefer to climb. However, a priority here was to avoid going up some of the stiffer, busier roads so I dropped in to Thixendale after crossing the A166 that marks the boundary there between the East Riding of Yorkshire and North Yorkshire. Here's a quick summary of the day's route option:
1. Descent of Huggate Road (preferred as an ascent, because it's too steep and gravelly to best enjoy downhill)
2. Ascent of Water Dale* (preferred as an ascent, but great either way)
3. Descent of the 'Fuller Gallery' road* (preferred as an descent as it's rather tight and twisty)
4. Ascent of Burdale (preferred for the same reasons as Huggate Road)
5. Descent of Fridaythorpe to Thixendale road (preferred for the same reasons as the 'Fuller Gallery' road)
6. Ascent of the road next to Thixendale Village hall (no real preference, but usually quiet, although a heavily rutted surface)
*The descent of the 'Fuller Gallery' road and the ascent of Water Dale – in that order – are part of the recommended, clockwise version of the Yorkshire Wolds Cycle Route.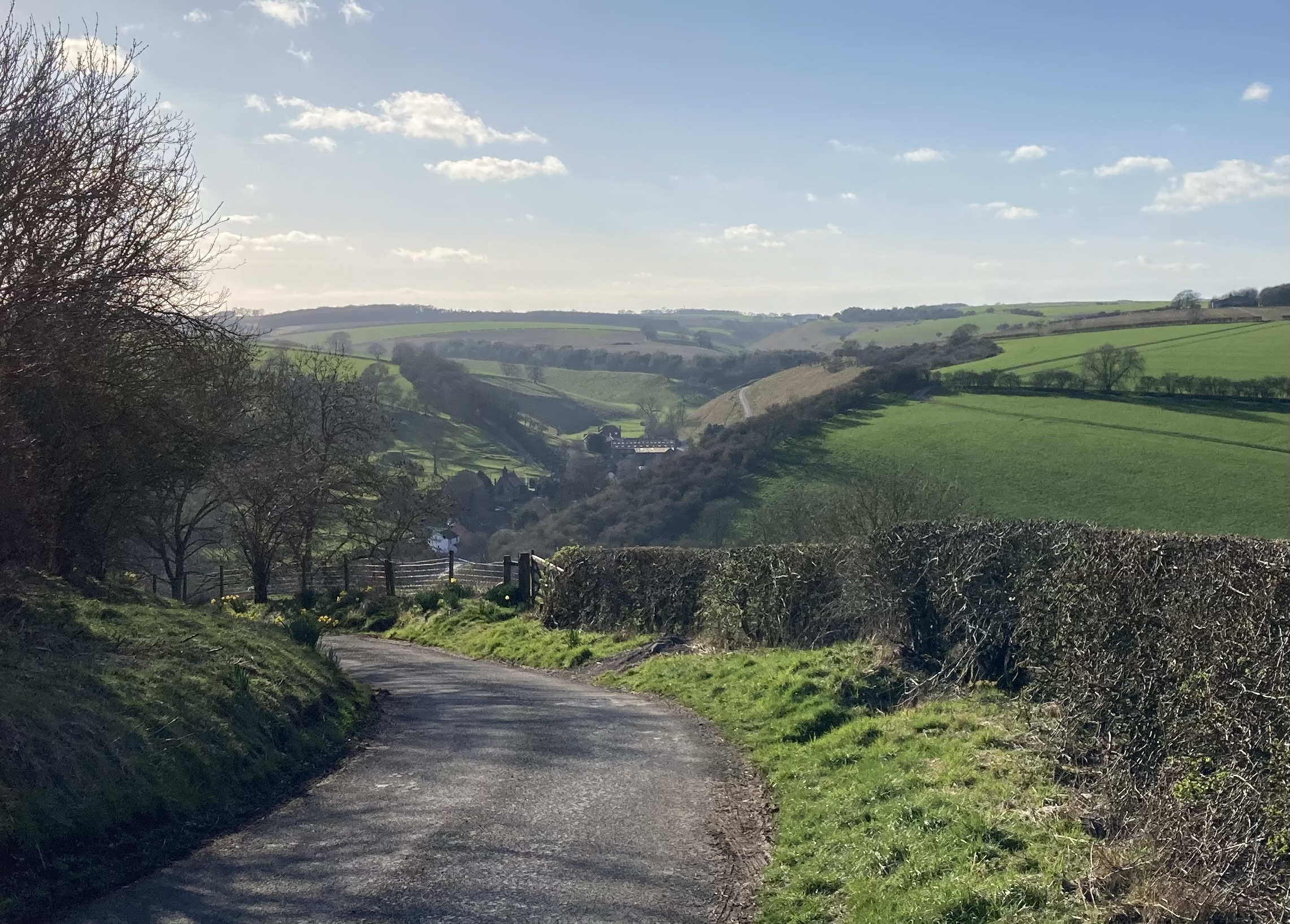 Dropping in to Thixendale via the road from Fridaythorpe
So a taster of the roads around Thixendale. I had thought that the name of this village was derived from its position within six dales, but apparently there are sixteeen, which I suppose makes more sense. At any rate, if you would like a hilly, fairly contained route then this is one you might wish to consider.

If the embedded ride doesn't display you can click here to open in Garmin Connect or view in Strava.
---
Also of interest, a former ride buddy's comments on Strava about the 'Thixendale Spider':
Spider. Do each climb out of Thix. and straight back down to the village after each one. Make one of them much longer and your map on Strava looks like a Spider on a thread. Do all the possible climbs twice and you have "killed the spider".
See also Clifton CC's 'Thixendale Spirograph', which I wouldn't personally choose to do, but which is certainly thorough.